Top Stories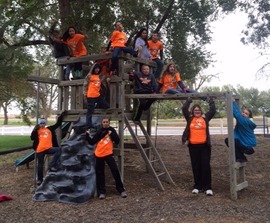 On Monday, November 3, the KCJH student body participated in a community service project called Love KC . The event was organized by Impact's Maverick Green Team, chaired by Regan Rhodes (8th grader) and advised by faculty members David Cesmat and Brad Lingafelter. The idea originated as a post-Halloween community service activity to clean up Greensburg, but evolved into a county-wide event for both KCJH and Haviland . . .
Kiowa County High School Basketball will be in action at the 7th Annual Keady Classic Basketball Tournament in Larned the week of December 8 - December 13. The brackets have been set, and they can be found below for both the Girls and Boys. Contact the HS office if you have any questions about the upcoming tournament. . . .

On Wednesday, October 29th, Stacy Barnes, of the 5.4.7 Arts Center, made her monthly visit to the school to do art classes for the elementary students. In the absence of an art teacher for our elementary school, the 5.4.7 Arts Center partners with the school to provide art experiences for students. This month, the students are . . .
Current Highlights